Coronavirus has brought many changes to our lives & has brought good news for the real estate industry too. The troubles faced during COVID-19 have created opportunities for real estate to bloom again. After witnessing a downfall in demand for the past few years.
Affordable housing has always remained the center of attraction for millennials as well as investors expecting long-term returns. The fluctuations we're witnessing in the stock market are one of the reasons why real estate started to gain the attention of investors.
Insights from the Survey Conducted by Anarock
During Lockdown 2.0, India's property consultant company Anarock Pvt. Ltd.
The key purpose for conducting this survey was to provide deeper insights into the Indian Property Market according to the consumer's perspective.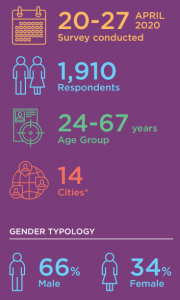 What according to respondents is the 'ideal' time for real estate investment?
According to Anarock's recent survey during COVID-19, 54% of respondents feel that the ideal time to buy the property is 'NOW', 6% of homebuyers have already booked their dream home either before lockdown period or during it while 29% say 'maybe'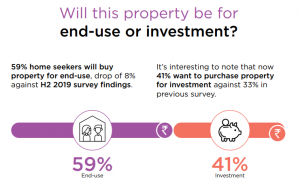 As you can see, a similar survey was conducted in 2019 where more people were interested in buying property for their usage. This has been dropped to 8%.
Opposite to this, there is an 8% boost among investors who want to purchase a property to make it an earning tool as compared to the last survey.
At what stage of construction people are willing to buy a property?
To eliminate any possible construction risks, 46% of people are more interested in ready to move properties & 36% of participants voted for the budget category as 45 lakhs to 90 lakhs.
What property experts have to say…
"Investors could lose about 80% if they were to invest in a volatile asset class compared to real estate which is a long-term asset" – Ashish Agarwal, Senior Director – Head Consulting Services at Colliers International, India. (Source: Money Control News)
Investors are looking for low-risk opportunities and real estate being a strong candidate, such decisions influence the real estate market. Anuj Puri (Chairman of Anarock Property Consultants Pvt Ltd) says that people want to be secured by owning real estate properties.
Make better Home-buying Decisions with Shreepad Group
Shreepad Group has always believed in the uplifting lifestyles of people with better property investment.
If you are planning to buy home according to RBI's new scheme, we have grand projects like
Shreepad Park Arena & Shreepad Celebrations for you to explore.
Analyzing the current disappointing scenario of stocks & shares market, Shreepad brings you an opportunity to invest in 3BHK Flats, 4 & 5BHK Premium Luxurious Flats in Surat. Making a risk-free investment will not only relieve you from worries of downfalls in the stock market but you'll change your life for better.
Consult us now at info@shreepadgroup.comor call us at +91 76986 71000 | +91 70460 14000.