Shreepad Celebrations is one of the much-awaited Premium Apartment projects by Shreepad Group in Surat. 3 BHK Luxury Flats in Surat will be redefined with Shreepad Celebrations. Let's have a close look at this project.
You may also be interested to read: What to look out before buying a luxury home?
'Shreepad Celebrations' – Why it is named so?
Where life turns into a celebration, where every moment is soothing and the heart dances with joy then you are at Shreepad Celebrations. The moment you enter your home, you forget all the worries and get indulged in the immense pleasure of living. This is all we aim to deliver with our exotic apartment.
It is a project encompassing 4 high rise towers with 208 residential units which makes it talkof-the-town for sure.
Major Attractions for Shreepad Celebrations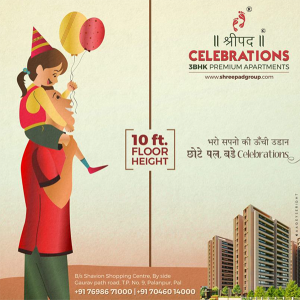 One of the most common issues people face with infrastructure is a compact space. Less living room space, small bedroom and more space designed compactly make things congested.
It's time to say goodbye to all such issues as you get a lot of free space with Shreepad Celebrations. With 10' ft. floor height, you can plan interiors to be more exciting. Have some relaxation time, swing or stir some thoughts with your loved ones in the magnificent 19′ ft.Deck balcony.
You don't need to find extra space outside the premises to park cars as we offer 2-Car Allotted parking for each flat. Understanding the importance of living close to nature, this project is built following the "Green Building" concept.
13 Lavish Amenities to Swear By
Though mentioned as a few, this is just a glance of the exotic amenities to experience only at Shreepad Celebrations: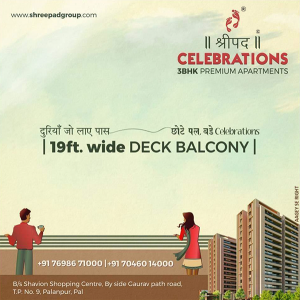 1. 19" Wide Deck Balcony
2. Welcoming Fountain at Campus Entrance
3. 24*7 CCTV Surveillance under CCTV Camera
4. Landscape Garden with Party Lawn
5. Children Play Area with Amusement Equipment
6. Gazebo Sitting
7. Wi-Fi Zone
8. Pleasant & Spacious Entrance Foyer in each Building
9. Basket Ball Court/ Volleyball/ Skating Rink
10. A.C. Indoor Games with Garden View
11. Allotted Parking of Two Cars to each Flat including Basement
12. Gorgeous Main Entrance Gate
13. Rooftop Solar Panels
This is not what you can expect with every next luxury apartment project, isn't it?
More Luxurious Resources to Impress
Besides the high-end facilities, you also avail KONE/ SCHINDLER/ Equivalent Auto Door Lift.You are never out of power as Auto Generator Backup for Common Services and 1amp load is facilitated in each flat. Ensuring adequate water to each flat, we have planned Borewell with a pump to each building, SMC water with U.G. & O.H. water tank for each building.
Safety is at the core for Shreepad Group and we have so installed Fire Safety Systems as per NBC Norms
Does your dream home idea match with Shreepad Celebrations?
Bookings are open!
Feel free to call us at +91 76986 71000 or +91 70460 14000.
Thank You